Publicerad den
30 April, 2013
av admin
A list of all the packages that have been loaded for your hotel is shown on the left-hand side. The packages are divided by: Temporary deals, Rooms, Specials, Arrangement.
Next to heading you'll find a information icon (i). When you hoover with your mouse over this icon, it will tell you if the rates you see for the packages in the group are per room per night or per person per stay.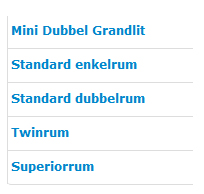 The packages indicated in grey are those that have been loaded
dynamically. Where the name of a package is shown in red letters, this means that the relevant package is currently not active (live) on the HotelSpecials website and therefore cannot be reserved.
When you have selected price as primary information and you offer different rates for 1 night stays versus 2 or more night stays, the line with the later rates will be indicated with 2<n.
Arkiverad i Manual Extranet | 3 kommentarer »