Publicerad den
30 April, 2013
av admin
Restaurant
Show here all the information concerning your restaurant, such as:Between what times is breakfast served?
Does the hotel supply lunch packs? A supplement per lunch pack can be entered here. Between what times is lunch served? What are the opening times of the restaurant for dinner? Is a children's menu available?Does the restaurant cater for dietary requirements? Please tick here the dietary requirements that you cater for.
Rooms general
You should supply here information that applies to all the rooms that you sell via HotelSpecials.
Does the hotel have single beds or double beds?
If you cannot give an unambiguous answer, select the option "Both single and double" and
for the question: When making a reservation, is it possible to state a preference for single or
double beds?, select the option "Yes".
Is it possible to place a baby cot in the room?
For the option "Yes, a baby cot of the hotel is available at a surcharge" a supplement per cot can be
entered.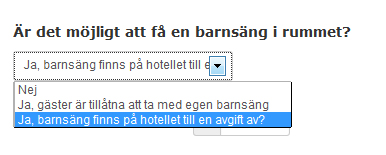 Arkiverad i Manual Extranet | Kommentera gärna »