Publicerad den
30 April, 2013
av admin
General facilities
Here, tick only those facilities that are available or present at hotel level. Elements that only apply to a certain type of room should not  be ticked here. Air conditioning should therefore only be ticked if this is present throughout the hotel.  The facilities Reading Corner, Lounge, Open Fire, Garden, Terrace and Seating Area shouldbe generally accessible areas that are present in the hotel. No supplements for the use of these areas should be applicable.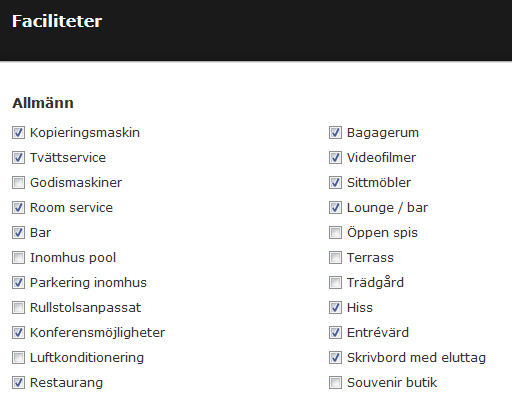 Other facilities
You can indicate the other facilities offered by your hotel in the following 3 categories:
– Facilities for children
– Sport and games
– Service in the hotel
– Are there any leisure facilities present in the hotel?
N.B.: When entering these facilities, be sure to activate the tick in order to show the facility on the website. And please indicate whether the supplement is per person or per facility. If the facility is freely available to your guests, please leave the price set at €0.00.

Arkiverad i Manual Extranet | Kommentera gärna »